THINX Period Underwear Review
For the past several months I've enjoyed the freedom that comes from using a menstrual cup and it has opened my eyes to the world of alternative period care.
Since moving to Singapore I've been frustrated with the (severe) lack of choice in period care - and I happen to be very picky. From almost the first go, using a cup was a more comfortable, and easier, alternative to my monthly tampons, pads and liner routine. My Lunette Cup Review has all the details.
As I used to do with tampons, I continued using liners as a supplement to the cup in case of leaks. Continuing along the lines of reusable products I found my answer in period underwear. I came across THINX and after some research decided to purchase black pairs of the Hi-Waist and the Cheeky.
First Impressions
Purchasing clothing online gives me the jitters. The puzzling choice on whether to size up or risk sticking to your measurements is terrifying. My measurements put me in the size S category but THINX noted that their underwear fit snug so I sized up and got M for both pairs.
I received my package after two weeks of placing the order and tried them on anxiously. As it turns out their measurements are true to size so the underwear sat a little loose on me.
Being less than a week away from a trip to Japan, I decided to take advantage of the 60-day trial and test them out anyway. If they didn't work out while I put them to the test I'd make use of the 60-day trial period and request an exchange before I returned home.
My Experience
When I initially received my package of two THINX underwear (Hi-Waist and Cheeky in black) I wasn't able to really put them to the test so, I wore them out and about on some 'normal' days. Happy to report, they're surprisingly comfortable, despite getting a size too big!
Month 1 (with a cup)
The first time I was able to put the underwear to the test and I happened to be away from home and I don't like to experiment too much in case of messy situations! For the first month I decided I would use it as a supplement to the cup and use the THINX underwear as extra protection and ditch the disposable liners.
Day 1
Day 1 is always the worst for me. Debilitating pains, bloating, horrible moods and if that wasn't enough, my digestive system decides to completely betray me (anyone else?).
I generally have a light period throughout, and was using the cup, but just in case of leakages I decided to wear the Hi-Waist (said to hold up to 2 tampons worth). While I had worn this in the size Medium I had already decided it was too loose - and wearing it during my period only confirmed this fact. There was some sagging action in the bum area, which, if I were using the underwear only, would not end well.
I contacted THINX and requested an exchange for the size Small. This happened to be on the 31st December, 2017 and thought I'd get a head start on the process thinking their support team would be on holiday. To my surprise, just a few hours later, I got an email requesting some additional info and by the next day I had the shipping order ready to go! On top of that, since this was my first purchase, they informed me that I could keep my two pairs (either pass it onto a friend or women's shelter) and they'd send two extra pairs! I was very happy with that. Excellent service.
On this day I cleaned out my cup once during the day and once before bedtime. I had no leakage to my underwear.
As I was in a hotel and there were no laundromats nearby I hand-washed them in the bathroom sink and used cold water, following their instructions and hung them up to dry.
Day 2
The Hi-Waist dried completely overnight, so I wore them again on Day 2. I cleaned my cup once after waking up and once before going to bed and that was sufficient. There were no leakages and I washed the underwear again in the sink, same as the previous night, and it dried completely overnight.
Day 3
This was much the same as the day before so nothing to report here expect that the underwear didn't dry enough to wear the following day.
Day 4
There was some spotting so didn't use the cup and went with underwear only. Cheeky this time. Was fine and rinsed it out in the sink.
And that's it for Month 1. At no point did I notice any odours (and I'm usually quite sensitive with that). The underwear was very comfortable to wear and I often forgot it was different to any normal underwear.
Month 2 (on its own)
A few days after I returned from my wonderful trip to Japan (which you can see here and here) my smaller pairs arrived.
I tried them on straight away and to my delight they fit perfectly! So now I had four pairs of underwear to trail for my second month!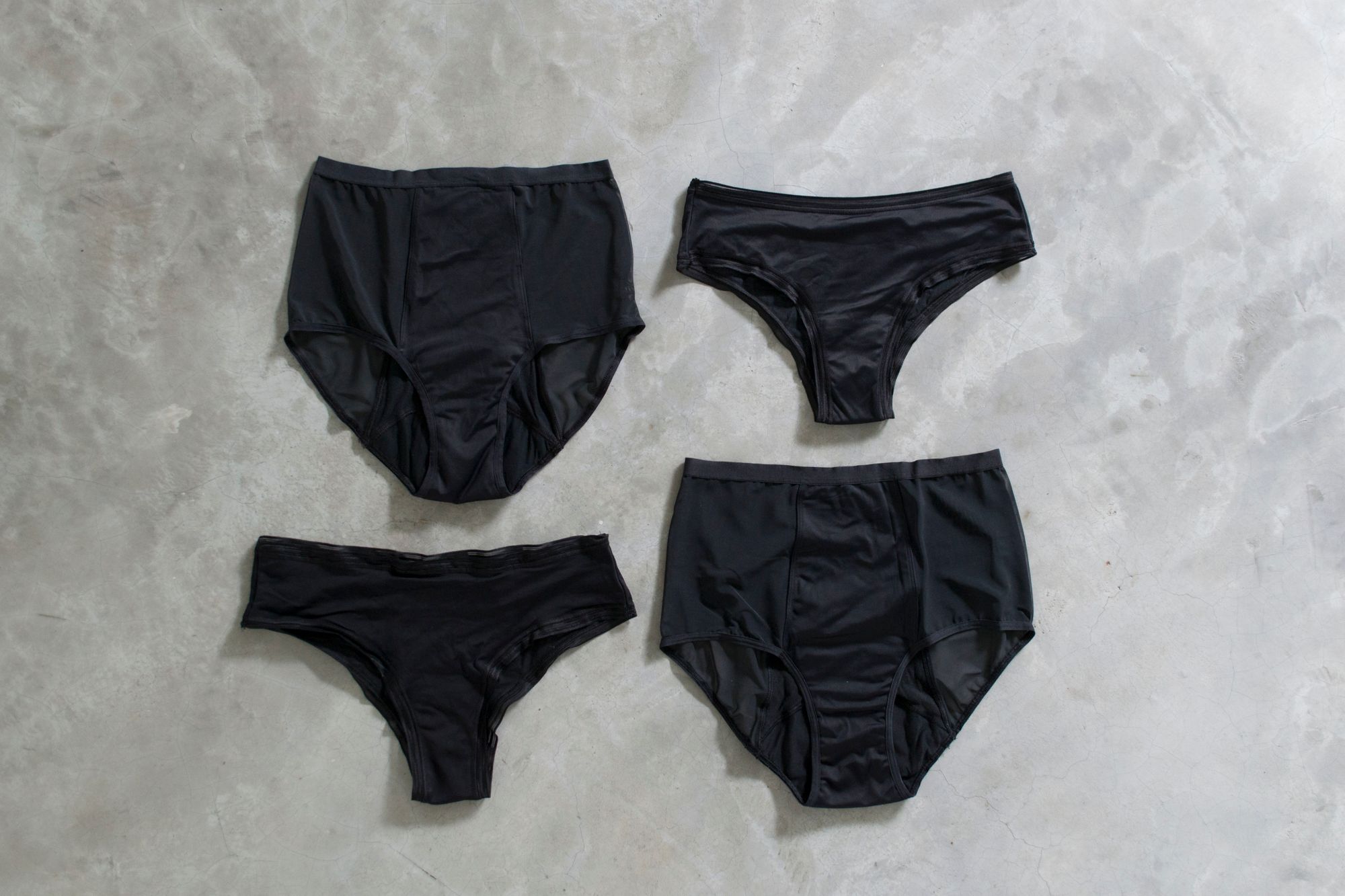 Day 1
I could feel it coming… I can always feel it coming, so I put on the Cheeky pair the night before and went to sleep. Overnight there was only a bit of spotting so no big deal there. I changed into the Hi-Waist pair because it provides the most protection and on my first day is when I bleed the most, and this month was no exception.
It was an inside day (I had planned it that way because I didn't want to risk being out and about during this experiment with blood stains on my bottom) and I could feel that I was bleeding quite a bit, but once it soaked into the underwear it didn't actually feet wet anymore. A pleasant surprise.
I decided to have a shower earlier than normal (around about 7pm) and had the Hi-Waist pair on for a total of 11 hours and didn't experience any leaks or accidents! However by the end of the day it did feel a little damp.
I was surprised to find that there was no smell as I went about my day. It was only when I went to swap out my underwear when it became too soaked or when I went to the toilet that I could smell some funkiness.
There were no leakages.
Day 2
By the second day it had already started easing up so getting through with just one pair was plenty. By the end of the day I started noticing some smells as I hadn't changed at all.
Day 3
Only a little spotting and my flow just tapered off from here.
During Day 1 did I feel any wetness as that was my heaviest flow day (and I have a light flow anyway). By Day 2-3 there was no wet feeling at all.
How does it work?
They are made with four layers:
Interior Innermost - 95% Cotton and 5% Elastane
Middle - breathable PUL, 95% Cotton and 5% Elastane
Outer - 89% Nylon and 11% Elastane
Trim - 100% Polyester
The four layers work together to create an anti-microbial, moisture-wicking, absorbent, and leak-resistant underwear. The top layer fights bacteria and absorbs any liquid into the thin layer beneath it.
The Hi-Waist holds up to 2 tampons worth and the Cheeky holds up to 1.
Care Instructions
The care instructions are very simple:
Rinse immediately after use by hand until the water runs clear
Place in a cold wash cycle inside a garments bag
Don't use fabric softener which diminishes the absorbency of the fabric
Hang dry, not in the dryer, as it also diminishes the absorbency of the fabric
Of course, this will be a bit harder while you're travelling. I was away in Japan during my first month of trialing the underwear. I thought it was going to be very involved but the process was very simple!
I just rinsed it out, soaked it in the hotel bathroom sink for about 5 minutes, and hung up to dry.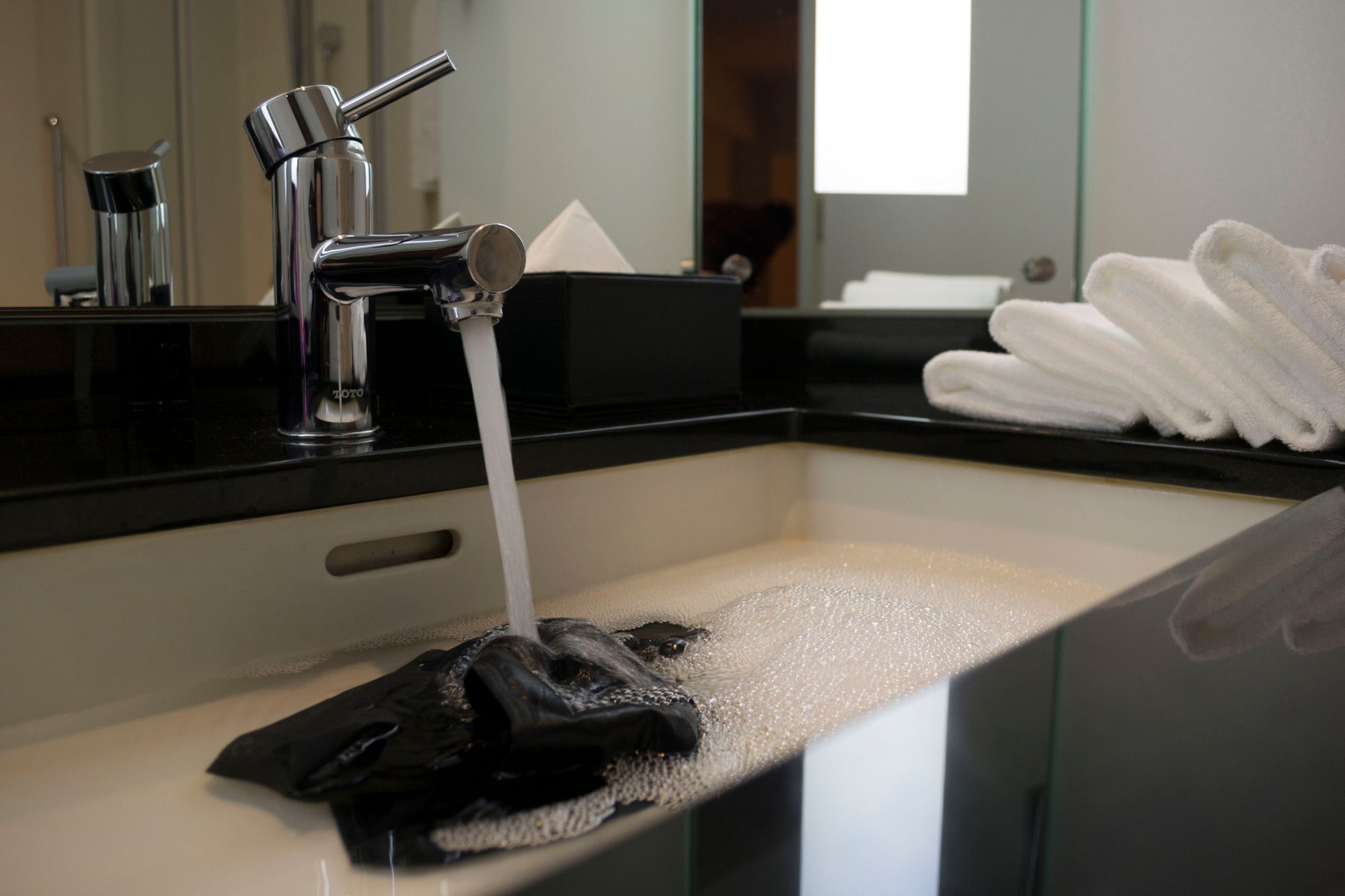 In the hotel's air conditioning, the underwear usually dried by the next afternoon allowing me to alternate each day. Back in Singapore, in the humid, but hot weather, it takes a little longer to dry.
Comparing Sizes
The difference between a size S and size M is only very slight but for me it made a significant difference in the comfort level while wearing them.
Cheeky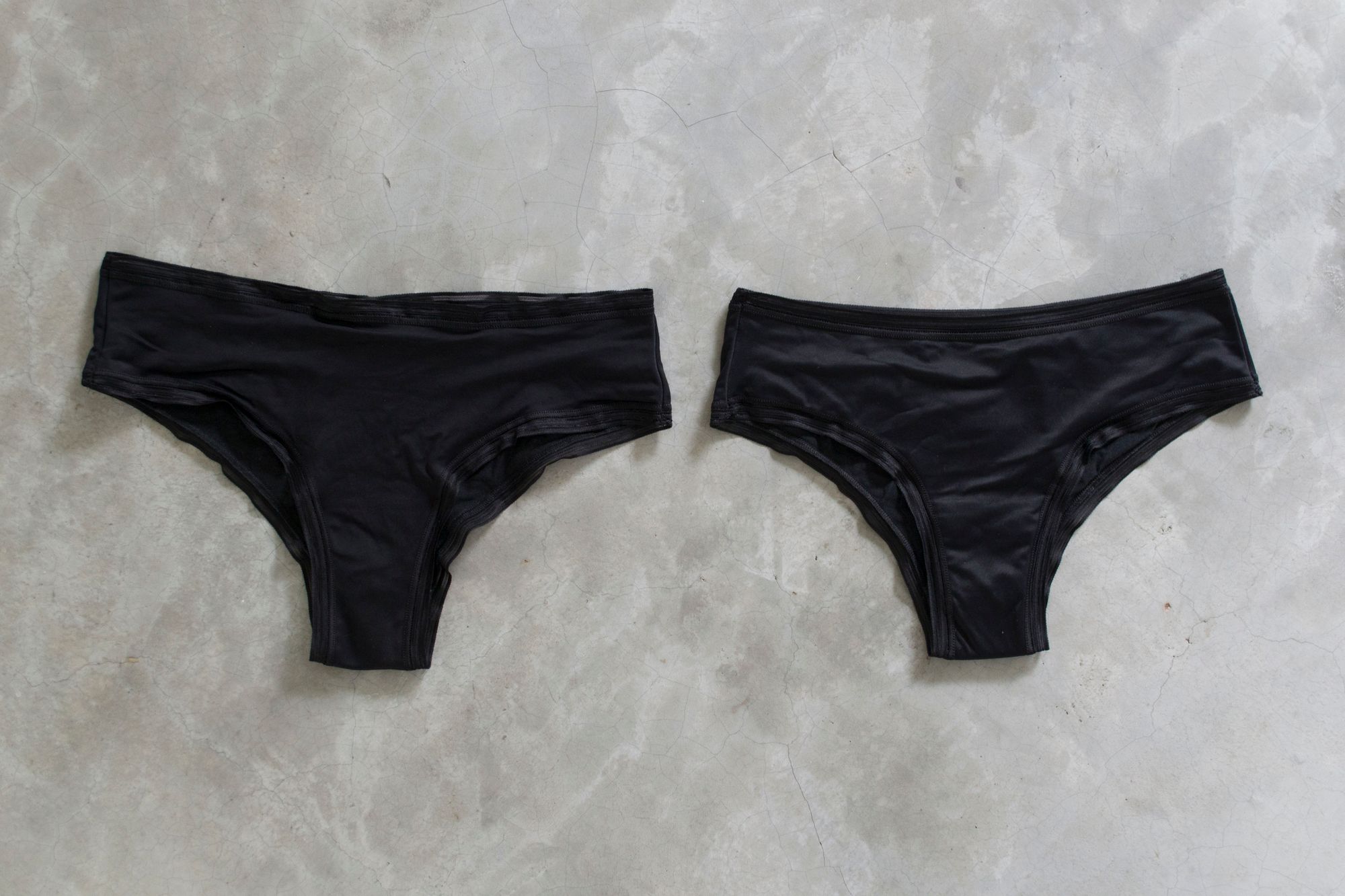 Hi-Waist
Pros & Cons
Pros
Less waste: These underwear easily replaces the need for liners
Looks good: With all the different styles available, they don't looks like grandma undies or nappies, they're still shapely and sleek
Comfortable: They don't feel like swimmers or nappies
Cost effective: In the long run, you'll be able to reap the rewards of eliminating or significantly reducing your need for liners
Cons
Wetness: depending your cycle day you may bleed a little heavier than you expect (happens to us all and our unpredictable bodies) and you may feel the dampness, similar to wearing a pad, which is why a lot of women start using tampons/cups. You'll need to change your underwear throughout the day.
Drying time: the underwear has tech involving four layers of fabric to absorb the moisture without leakages, so it follows that after they've been laundered, it would take extra time to dry those layers. Living in a hot climate such as Singapore, they took a full two days to dry completely.
Multiple pairs: following on from the last point, you'll need several pairs to see you through the month. I bought two pairs to start as I knew this was going to be an issue but for those in a cooler climate (where clothing takes longer to dry) you'd need at least 4-5 pairs. Same goes for those who have a heavier flow and have to change their underwear more often.
Pricey: with prices around $30(USD) for one pair, this is definitely an investment, and while they will last a very long time, it may be a struggle for some to afford.
Limited colours: this didn't bother me too much. Their main colours are black (which makes sense), beige and they have a red pair available in the hipster style. While this may not be in the forefront of our minds while feeling bloated, in pain and just generally, horrible, it's nice to have some choice about what's going on underneath ?.
Final thoughts
My experience in using THINX period underwear was so much better than I thought. They were comfortable, fit well, didn't leak or feel like a wet nappy.
However, it involved extra loads of laundry/hand washing, and long drying times, and is an investment to have a full set to see you through a full cycle. It would be difficult to rely on just a few pairs of underwear throughout a cycle. Depending on your flow, you may need seven or more pairs and that initial cost is pretty steep!
Having said all of this, I don't like the feeling of 'free-bleeding', and prefer the underwear as a supplement to the cup, as well as a replacement to liners.
If you seek to use period underwear only, you may need to consider the additional laundry, initial costs, and your flow.
Coupon codes
Click here to get $10 off your order.